- A Couple G07 Notes -
The first thing is the mod to the G07 chassis that upgrades the sync circuit to handle the newer PCBs eliminating top curl in the pic. The way the instructions were written seem to be hard for some to follow, so I'm going to put my own notes on it as posted in RGVAC in 1998 here & hopefully they will be easier to follow. To make the upgrade do this:
-First.. remove C501 & chuck it out.
-Second.. remove C303 & place it in the holes for C501 & solder.
-Third.. clean the solder from the hole between the 2 holes where C303 was removed & fill in the one furthest from the chassis edge with solder.
-Fourth.. put a 10 to 22uf @ 25 volt minimum in the now closer together holes at C303 with the longer positive lead going thru the hole closest to the edge of the chassis PCB & solder.
-Fifth.. after reinstallation of the chassis adjust the H hold for a center point without the curl.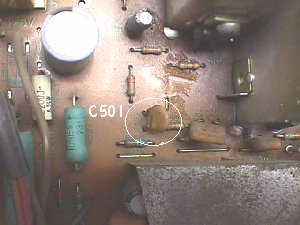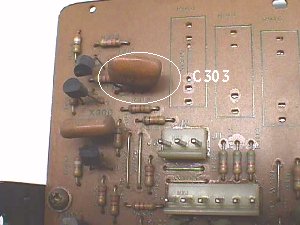 Obviously, if there is an electrolytic already in the position for C303 & the cap at C501 looks like the C303 in the pic above, the upgrade has already been installed. The post-installation is pic'd below.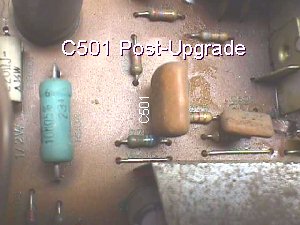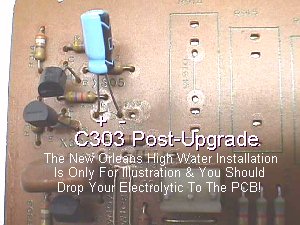 Next is the original G07 chassis G07-CAO and the installation of a cap kit. This uses the same cap kit as the G07-CBO with the following changes:
1. C517, which is a 470uf 16v cap will be replaced with the caps from the kit marked for C517 (100uf 25v) & C518 (220uf 25v) at the now unpopulated site of C518. This is a parallel network which adds to total 330uf 25v across the side pin xformer T503 and since it is parallel, it makes no difference if you mix up the two positions so long as you install them with the correct polarity. Hint: Both ground sides will be closest to the flyback xformer. Note: Electrohome warned about replacing these 2 caps with a single larger value cap in any of their chassis'. This 2 cap bridge should always be used on any G07 version.
2. C302 (220uf 25v)is not used.
3. C407 (4.7uf 63v)is not used.
4. The extra cap used for upgrading the CBO version's sync will not be used.... C303 (10uf 50v).
5. C301 (3.3uf50v BP) is not used since we include them in our kits.
6. C520 original BP cap is upgraded to 3.3uf50v BP.
7. C511 (47uf160v) if it still has an axial cap you'll need to install a radial.
So you should have 4 spare capacitors from the kit to have on hand for the next project that is almost certain to need one of them... well, positively if you did not have them on hand... isn't that always the way it happens :-(
Thanks to Bryan Kruzynski for supplying a lot of info to work with here.