News
July 8th - More encoders are in stock and are already shipping. All backorders have now been completed & shipped.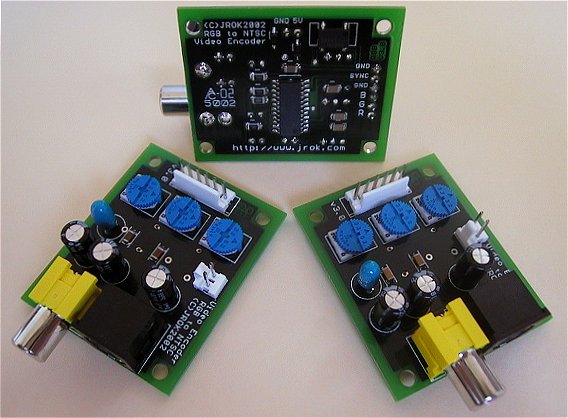 This is a ready assembled unit
please email for pricing & availability
Please Note: The board is only available for shipping in the USA and Canada
Circuit diagrams/Schematics and parts lists are NOT available.

Encoders are in stock & Shipping

Click to E -Mail Jrok for details
Here's another link to the FAQ RGB Video Encoder FAQ
What does it do ?
This unit will convert the Red, Green and Blue video signals coming out of a video game and convert it into the composite NTSC video, or S-Video, output.

It allows you to plug a Video arcade game board into a regular TV receiver that accepts video, or S-Video input, in the NTSC encoding format.

This board ONLY works with standard resolution arcade boardsets ( 15kHz horizontal line frequency )

it is NOT designed for medium resolution games or for VGA cards.
Read the FAQ here
Who is it for ?
This board is aimed at the arcade hobbyist and home enthusiast, it is NOT designed for commercial, automotive, medical or any use outside the home. It's designed as a tool for other arcade hardware fanatics.

This unit is not recommend to anyone who is inexperienced with the hook up and wiring of arcade games. It's extremely easy to make mis-connections and destroy the arcade board, the converter, the TV and the power supply.

It's ideal for connecting standard resolution JAMMA arcade games to a TV.

Technical Details

Input


Red, Green, Blue video approx. 1volt p-p.
Negative Composite Sync

Power
5v regulated DC @ 180mA
- normally using the same supply as the game board.

Output
NTSC Composite Video ( RCA Phono Plug )
S-Video ( Standard 4pin S-Video )

Controls
RGB input level controls -
For matching RGB input levels to video game boards
with high outputs.

What you get
RGB to NTSC encoder board, with dual S-Video and Composite video outputs
2 pin - 5v power lead
6 pin - RGB + Sync input lead

Wiring Diagram
View the wiring diagram for the board hookup.
Click here to view rgb_MINI_layout
JAMMA Wiring Diagram JAMMA_hookup